Welcome to Our Service Department
Every Ford driver in Hartford, WI area needs a Ford service center for their car, truck, or SUV. You may need a new battery or new brakes for your vehicle maintenance. Getting regular maintenance done by a certified automotive professional is vital. Your vehicle's health and performance is essential to us at Ewald's Hartford Ford and our Ford Service Center near you. Ford services like tire rotations and oil changes will extend the life of your car. These will enhance its performance and efficiency while on the road. Ford drivers should take their car truck or SUV to their local Ford Service Center. At Ewald's Hartford Ford in Hartford, WI, we are that place for you. Schedule to the Ford dealership service near you that you need today! Our Ford Service Department features a friendly, Ford trained and certified staff.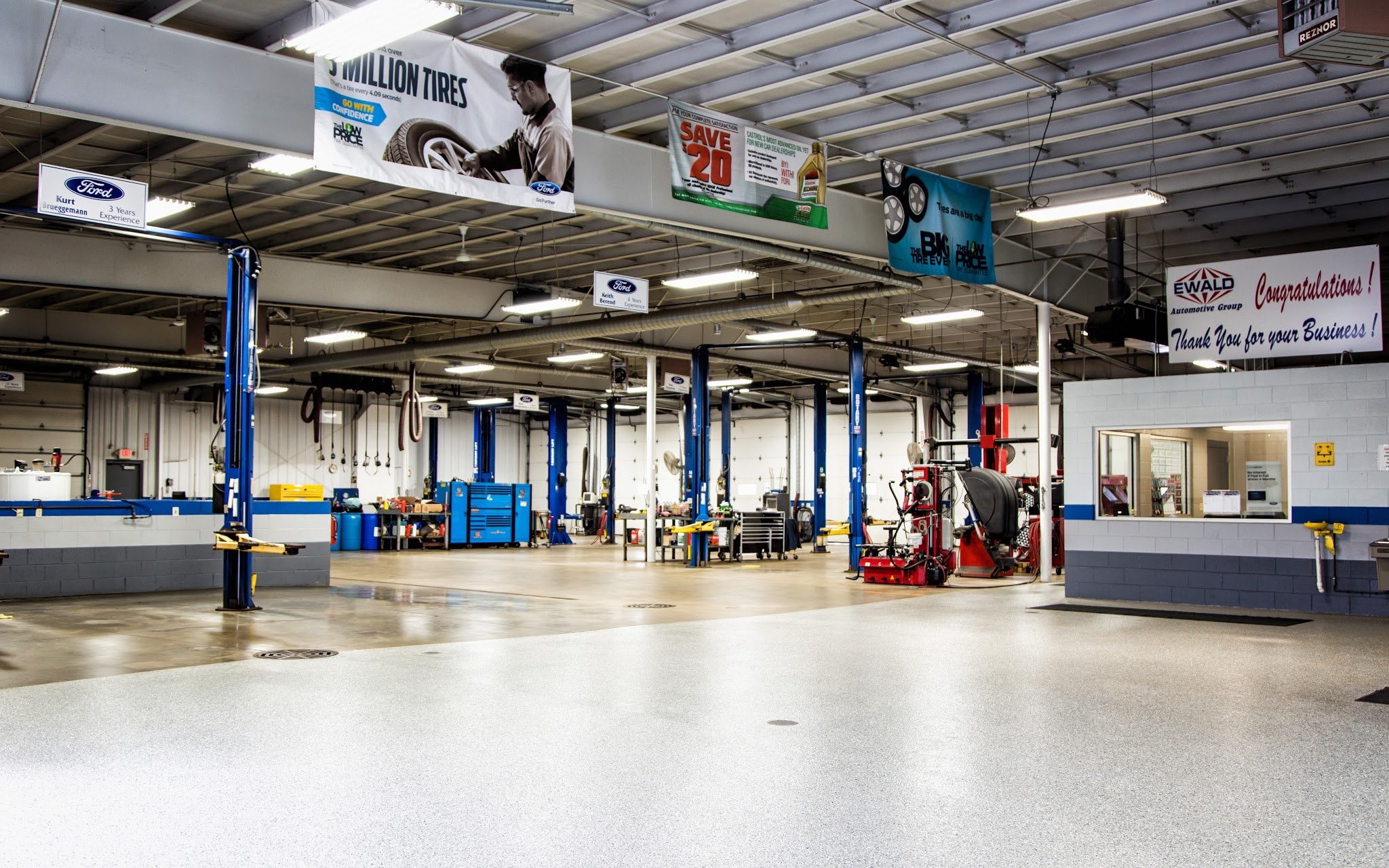 Ford Service
The Ewald's Hartford Ford team of ASE certified mechanics is here to address your automotive service needs. Our Ford service center can handle everything from your high-performance Mustang to your Ford F-350. The technicians at our Ford service department are ready to keep your vehicles in top condition. All you have to worry about is getting to where you are going. Here at your local Ford Service Center, we can take care of everything from:
oil change

tire rotation

wheel balance

battery check or battery replacement

tune-up

muffler/exhaust repair

brake repair, wheel alignment

fluids flushed

shock or strut replacement

engine management service
Whether you need a simple oil change or a significant part replaced the Ford service near you is here to help. We're here to take care of your vehicle's service needs no matter how big or small that may be.
Ford Service Coupons
Scheduled maintenance is essential to keep you safe and sound on the road. It also keeps your vehicle in its best condition. Our Service Consultants and Certified Ford Technicians are here to help you keep your car running well. We want to share the value of preventative maintenance with you, so you don't get stuck down the road. 
We have Ford service coupons and Ford service specials here at our Ford dealership service center. If you do not see a part and service coupon that fits what you want or need, then check back often. We are changing them frequently to give you the best available deals.
Ford OEM Parts
Along with regular maintenance, there are the parts you use in maintaining and repairing your vehicle. You want to make sure that you are using authentic parts for your car. Which is why we only use factory certified Ford OEM Parts so that they fit your car truck or SUV. When it comes to Ford parts, why use anything other than the factory-certified OEM Ford parts? 
When it comes to Ford performance parts, you can count on Ewald's Hartford Ford dealership near you. We have what you are looking for to keep your Mustang running in top condition. We have a wide variety of Ford truck parts for everything from the F-150 to one of the Ford commercial trucks for sale at Hartford, WI. 
In the case that we do not have the parts you want or need, our team will be happy to order the Ford parts online for you. We commit ourselves to give you maintenance your vehicle needs. Our quality parts and accessories reflect that commitment.
Ford Service Department
We make the repairs or maintenance you need for your car easy to understand and affordable. Our years of training and professional experience will make us your first choice for all engines, suspension, drive train, and body repair needs. Schedule an appointment online or over the phone with our Ford dealership near you today! Let our team at your local Ford service center take care of your maintenance needs.
With our dealers, we are the place you can go for an excellent selection of vehicles for sale. But, what if you are searching for vehicle maintenance? Where is the first place you think to go when you are looking for quality vehicle maintenance? Let us at Ewald's Hartford Ford, be the place that assists you in getting the service you want most for maintaining your vehicle. We do more than sell cars. We strive to be the place that keeps your vehicles running for years and years to come. From our Ford service department, you are sure to feel the comfort of the road, knowing your car is well maintained with the quality you want. Visit our Ford dealership service department today, and we will get you the choices you want most with our dealers. Explore our department today and see the team that makes it all possible. We all have the excellent expertise necessary to get you on the road with ease. Visit Ewald's Hartford Ford today for the Ford service department. There, we will help you with vehicle maintenance and repairs.
Ford Parts Available
There are a variety of reasons that you will want to get parts for your vehicle. The most popular is at home working on your car. Having the right parts that fit your car and its needs is essential. Never waste your time with unreliable parts. After your hard work, having a car that has the right pieces is key to your safety and performance while driving. Always start with the excellent Ford parts you need from Ewald's Hartford Ford. You can get Ford service parts from our dealers today. Take a chance with us, and we will be the place that helps you get Ford parts in-store and Ford parts online. Now is the time to see what we have available for you so you can get back to working on your car with ease. With Ewald's Hartford Ford, we get you the quality options you want with our dealers. Ford parts are vital to maintaining your vehicle quality. Break free from the stresses of others working on your car to take matters into your own hands.
But, if you are not as mechanic savvy as other car owners, then we will help you with car service as well. With our Ford service department, we are the place that gets you what you need. From Ford parts online to our Ford service department, we are ready for you on all fronts. See our dealers in person to not only get the car you strive for but also to get the service you need.