When it comes to family adventures in your RV, the last thing you want to worry about is where to find a quality service center. RV's deserve and demand a level of care somewhat different than traditional vehicles that can make them difficulty to work properly. If you are tired of dealing with dealerships in the Milwaukee area that do not put you and your Ford RV first, head to Ewald's Hartford Ford in Hartford, WI. Unlike traditional dealerships or your shop down the road, Ewald's has the on-site ability to handle many issues when it comes to your Ford motorhome. Located near Highway 45 and Highway 60 we are just a short drive from Milwaukee, Oconomowoc and West Bend, WI. When you are ready to take a cross-country adventure let the team at this Ford service center near, get your RV ready for whatever lies ahead. 
Our RV Service Center
RV's require a level of skill and technique that can be difficult for many technicians to work on. Unlike a car or truck RV's often have complex engine systems, hose and wiring setups that a traditional mechanic may not be able to correctly change or fix. Which is why here at Ewald's Hartford the RV service center near you, we our team is trained and certified to take care of all of your Ford RV maintenance needs. You can have peace of mind knowing that when it comes to RV maintenance we have the advanced diagnostic systems and specialized tools ensure to you're getting the absolute best service for your RV. Here at this service center our technicians are trained to not only deal with specific engine types, but every aspect of your vehicle maintenance. That includes all aspects of your Ford motorhome chassis and cab. At our service center we understand the importance of having a well maintained Ford chassis. Which is why we take our time to make sure your Ford RV frame is free of rust, dents and cracks. The team if Ford trained and certified technicians here at Ewald's Hartford service center will make sure that your RV is getting the proper parts and services it needs for miles of worry free travel.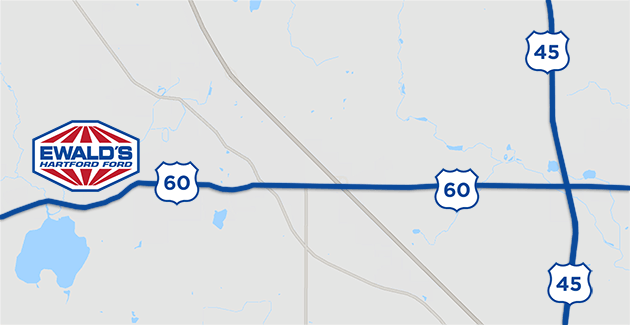 Hours
Monday

9:00AM - 8:00PM

Tuesday

9:00AM - 8:00PM

Wednesday

9:00AM - 8:00PM

Thursday

9:00AM - 8:00PM

Friday

9:00AM - 6:00PM

Saturday

9:00AM - 5:00PM

Sunday

Closed

RV Service & Maintenance
Your RV is a valuable investment if not properly maintained can be costly to repair. Chassis and frame issues left unrepaired can keep you from enjoying your motorhome to the fullest. Which is why here at the service center near you we offer a variety of maintenance options to make sure your camper is in top shape no matter the season.
Battery Service:
Removal of both the house and chassis batteries, clean the battery tray, reinstall and or replace all batteries and apply anti-corrosive.
Coolant Service:
Inspection of all hoses, clamps radiator and heater hoses drain the coolant and fill with new coolant.
Brake and Axle Service:
Removal of tires for inspection of brake lining, rotors, and hoses as well as high-pressure cleaning of brake sediment.
Chassis Lubrication:
Lubrication of steering linkage, drive shaft, front axle and front suspension. Inspection of wheel bearings and rear axle lubrication.
Engine Repair:
Complete engine diagnostic analysis parts replacement, electrical system check, and preventative maintenance.
Transmission Repair:
Everything from major transmission overhauls to minor repairs to correct whatever is wrong.
Winterization:
Drainage of all fluids from holding tanks, including gray and black water tanks. Additive of nontoxic antifreeze for plumbing.
RV Service Request