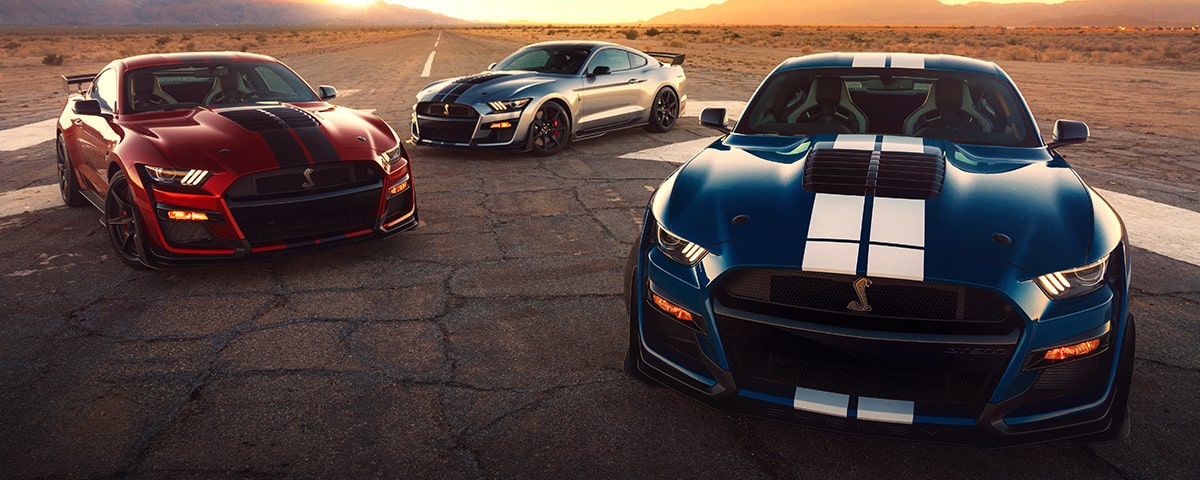 Mustang Shelby GT500
If you've been looking for a more engaging driving experience that doesn't make any concessions, you should certainly consider the new Ford Mustang GT500. This performance vehicle offers unrivaled power and handling. The Ford Mustang GT500 is available now at our dealership, and would be happy to tell you all about the specifications. If you absolutely demand the most out of your nice performance vehicle, we invite you down to our dealership to take a look and learn a little bit more about the new Mustang GT500. Our Ford dealer in Wisconsin will be happy to give you more details, so feel free to reach out to us anytime. You can reach us on our website, over the phone, or in person!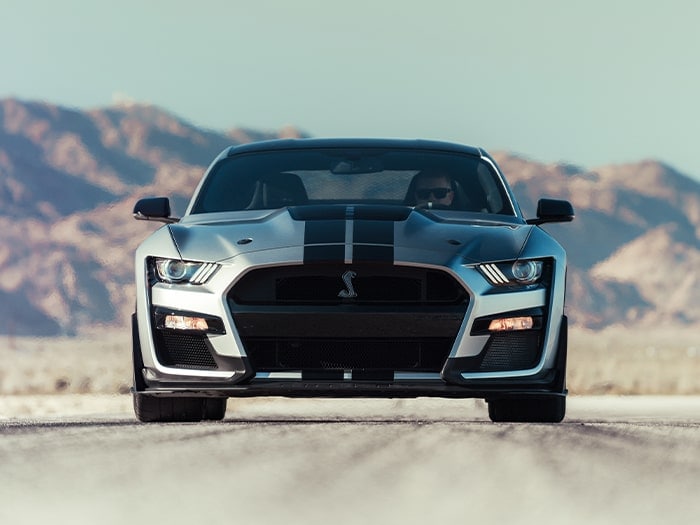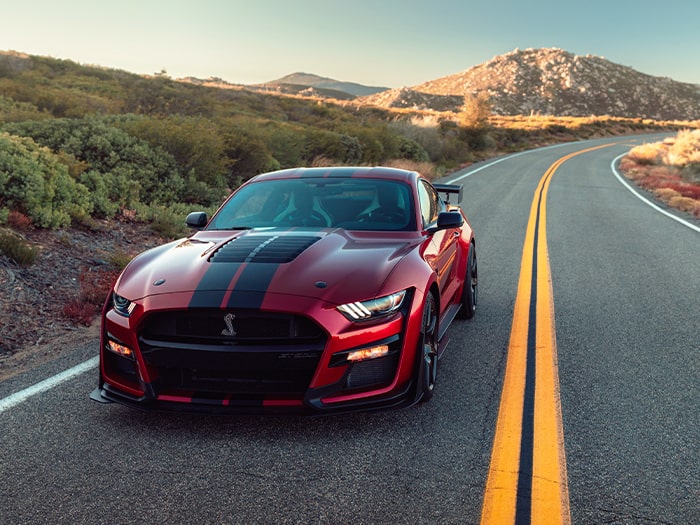 There's a Mustang for Everyone
The first thing everyone notices about the new Mustang GT500 is its striking appearance. The rear spoiler seamlessly integrates into the body, and the sleek lines are for more than just looks. The specially formulated body lines allow for higher speeds, more efficiency, and a bold look. The dual exhaust with electronic valves and quad tips give the vehicle an unmistakable look from every angle. The exterior appearance is thought out intensely from front to back. The hood vents in the front follow the bold lines and details all the way back to the rear diffuser. In the back, you'll also find LED sequential tail lights for an outstanding look while on the road. The LED signature lighting proudly signals the new Mustang GT500 presence. The 2020 Mustang GT500 also has an optional exposed carbon fiber GT4 track wing for increased performance and aesthetics. The vinyl over the top racing stripe brings the whole look together and allows the vehicle to have an even sportier look.
Performance & Handling
Of course, aesthetics are incredibly important for any vehicle, but the most important thing a performance vehicle can offer is performance! This is where the new Mustang GT500 really shines. The new Mustang GT500 features a 5.2 liter Supercharged  Cross Plane Crank V8 engine. This remarkably powerful engine is controlled by a TREMEC seven-speed dual-clutch transmission and exhausted through a dual exhaust system with electronic valves and quad tips. When it comes to performance, the new Mustang GT500 is truly unrivaled! The GT500 also has several features that allow it to perform better than ever before. The several selectable drive modes and launch control system pair with the independent rear suspension and indicated driver control system to make the driving experience engaging and your handling more precise than ever. If you demand the absolute best out of your next performance vehicle, the Ford Mustang GT500 is exactly what you've been looking for. If you are curious but any of the specifications of this vehicle, we encourage you to reach out to our team. Our team is standing by, ready to answer any questions or address any concerns that you have about this remarkable vehicle. We encourage our customers to ask as many questions as they can so that they can get a great idea of the vehicle that they are interested in.
3.73 TORSEN® limited-slip rear axle
Dual Exhaust with Electronic Valves and quad tips
TREMEC® 7- Speed Dual Clutch Transmission
5.2L Supercharged Cross Plane Crank V8
Red-Painted Brembo™ Brake Calipers
Launch Control (track use only)
20" Flow-formed High-Gloss Black Aluminum
Tire Inflator and Sealant kit
20" Exposed Carbon Fiber included in Carbon Fiber Track Package (Optional)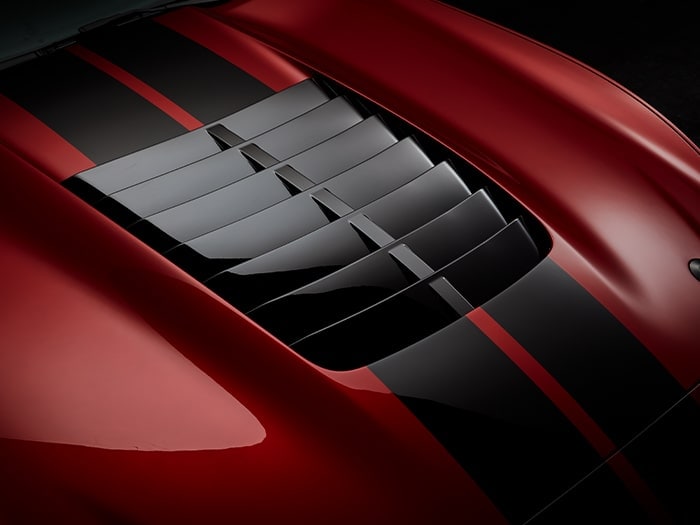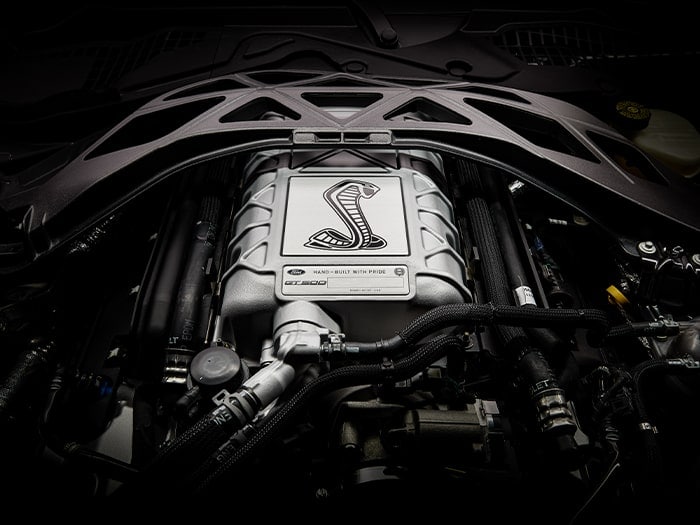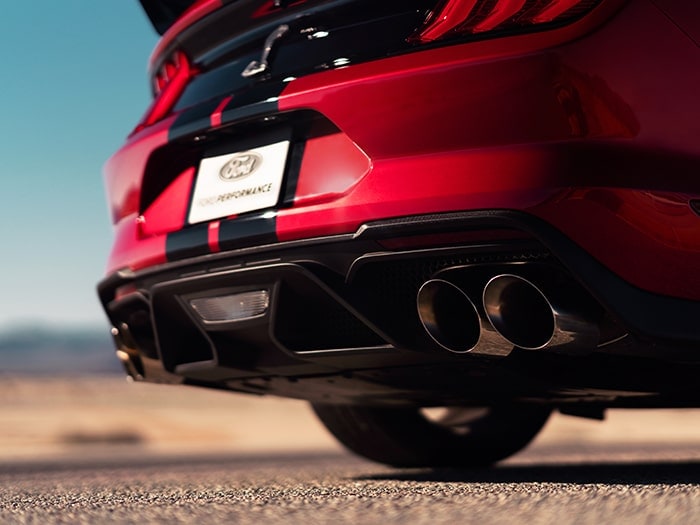 Interior & Technology
There's a lot to love about the exterior of the new Mustang GT500, but you will also find several interior incentives at our Ford dealership near you. We would be happy to let you take a look at the interior of the new Mustang GT500 to get a closer look. The Mustang GT500 Shelby features several clever interior options and improves both day-to-day life and the driving experience. The interior features intelligent climate control, carbon particulate air filters, and dual-zone electronic automatic temperature control. Additionally, the front seats offer adjustable front seating with lumbar control and 4-way adjustable front head restraints. The Ford Mustang GT500 for sale gathers all of these interior options to make for a comfortable and engaging driving experience. The Ford Mustang GT500 allows you to cruise at high speeds in comfort and style. As if these features are not enough, the 2020 Mustang GT500 also features a 9 speaker surround sound system with amplifiers and the Fordpass Connect system. The optional B&O sound system by Bang and Olufsen features 12 speakers in the cabin in a subwoofer in the trunk.
50/50 split-bench folding rear sea
Leather-trimmed Miko® Suede Sport Seats
Leather/Alcantara® -wrapped with paddle shifters
Cabin Particulate Air Filter
Dual-Zone Electronic Automatic Temperature Control
9-speaker sound system with amplifier
FordPass Connect™
Two smart-charging USB ports
SYNC® 3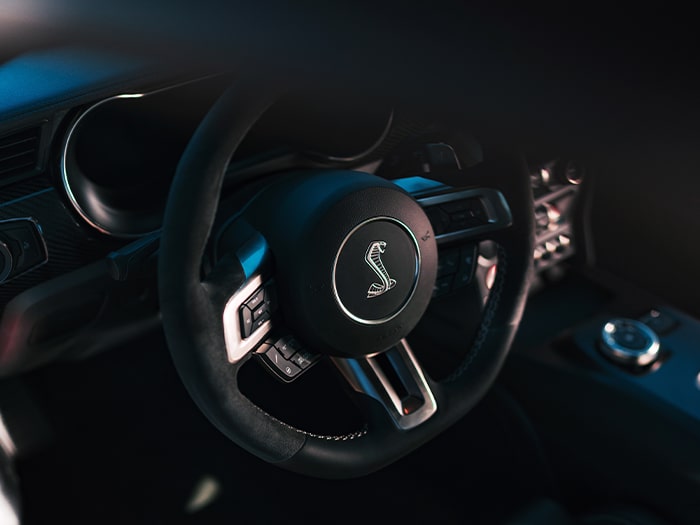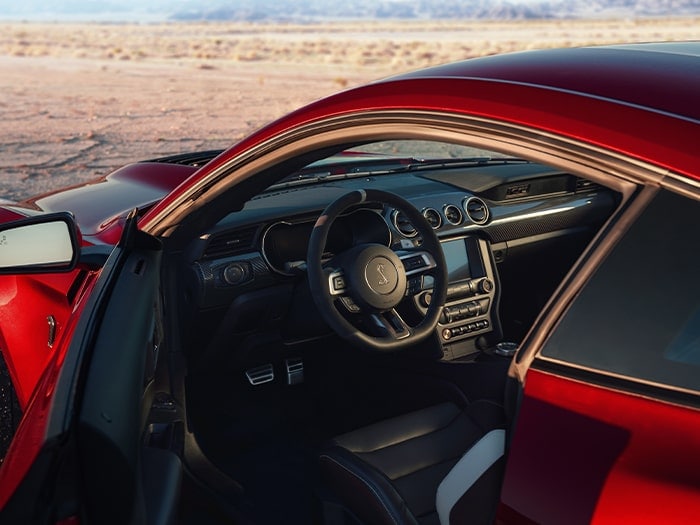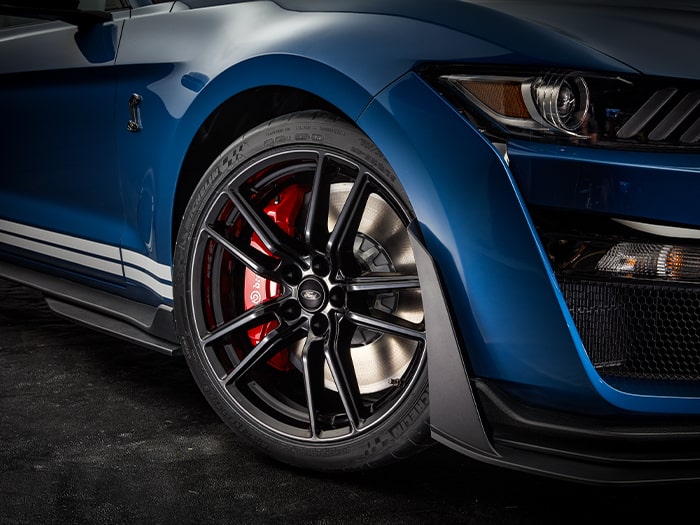 Why Shop with Ewald?
If you have any other questions about the new Mustang GT500, please do reach out to our team! We would be happy to tell you all about the fantastic features that this vehicle offers and give you a tour. Our team is passionate and dedicated to ensuring that you get behind the wheel of the performance vehicle that you prefer, and we'll help you with every step of the process. If you would like, you can also reach out to our finance team. Our finance team can help you with your next finance or lease and put you in charge of your next major financial decision. Our team looks forward to speaking with you about the many options that you have at our dealership and telling you all about the new Mustang GT500!